Ingredients
BBQ Jackfruit:
2 (20-ounce) Cans Young Green Jackfruit in Brine or Water (not in syrup)
1 Medium Onion White, Yellow or Brown, Chopped
2 Tablespoons Olive Oil
2 Cloves Garlic Crushed
1 teaspoon Oregano
1 cup Vegan BBQ Sauce (240ml) and more for serving
¼ cup Water (60ml)
Tacos:
8 Large Flour Tortillas
3 cups Shredded Lettuce
2 Medium Avocados Sliced
1 Small Red Onion Sliced
8 ounces Vegan Sour Cream (226g)
1 cup Cilantro Chopped
2 Limes Sliced into wedges
Instructions
BBQ Jackfruit:
Drain and rinse the jackfruit.
Add olive oil and chopped onions to a frying pan on medium heat. Sauté until the onions are softened.
Add crushed garlic and sauté with the onions.
Add the jackfruit and oregano. Sauté for 3 minutes.
Add vegan BBQ sauce and water and stir it in.
Lower the heat to medium low, cover the pan and leave it to simmer for 30 minutes. After 30 minutes, remove the lid.
Use two forks to shred the jackfruit in the pan.
Increase the heat to medium high and cook for 3-5 minutes until lightly browned.
Add a little more vegan BBQ sauce and toss it with the jackfruit right before serving (optional).
Assembling:
Heat your tortillas via your preferred method. You can heat them in a frying pan, or stack them up, cover them in foil and bake them in the oven at 350°F (180°C) for around 15 minutes until heated through. Our latest preferred method is to heat them in our panini press.
Add shredded lettuce followed by BBQ jackfruit, sliced avocado, red onion, a drizzle of vegan sour cream and a sprinkle of chopped cilantro.
Serve with fresh lime wedges on the side.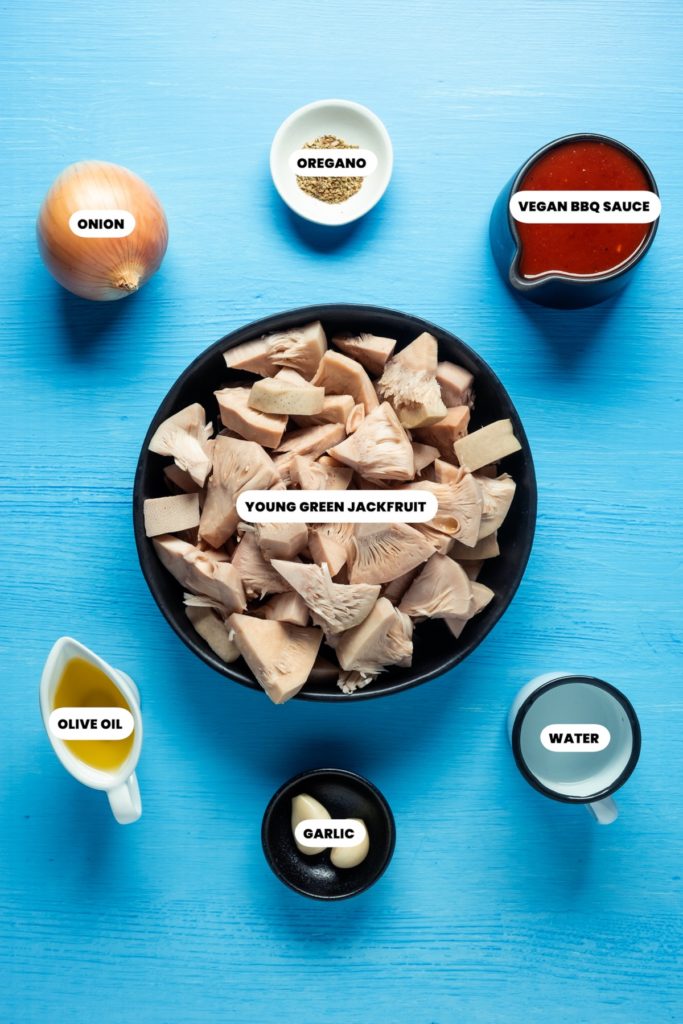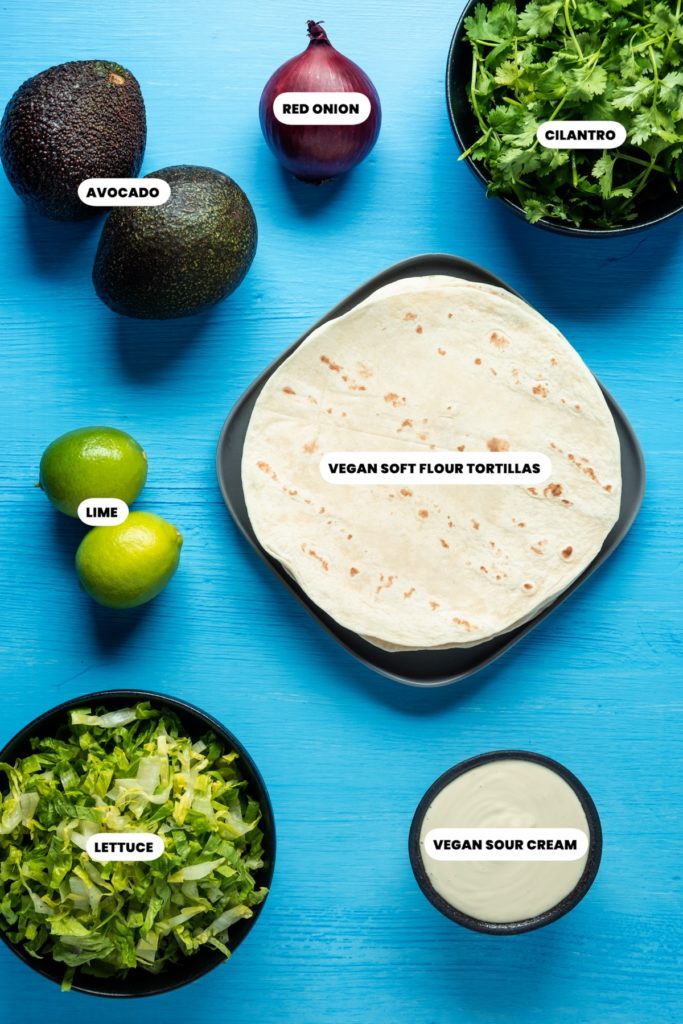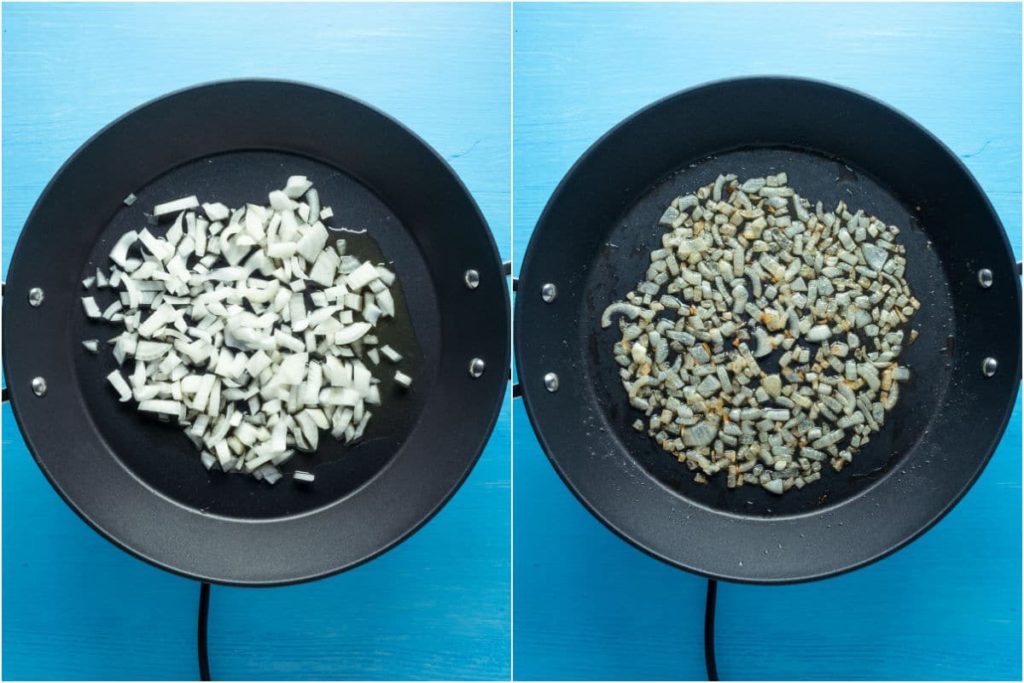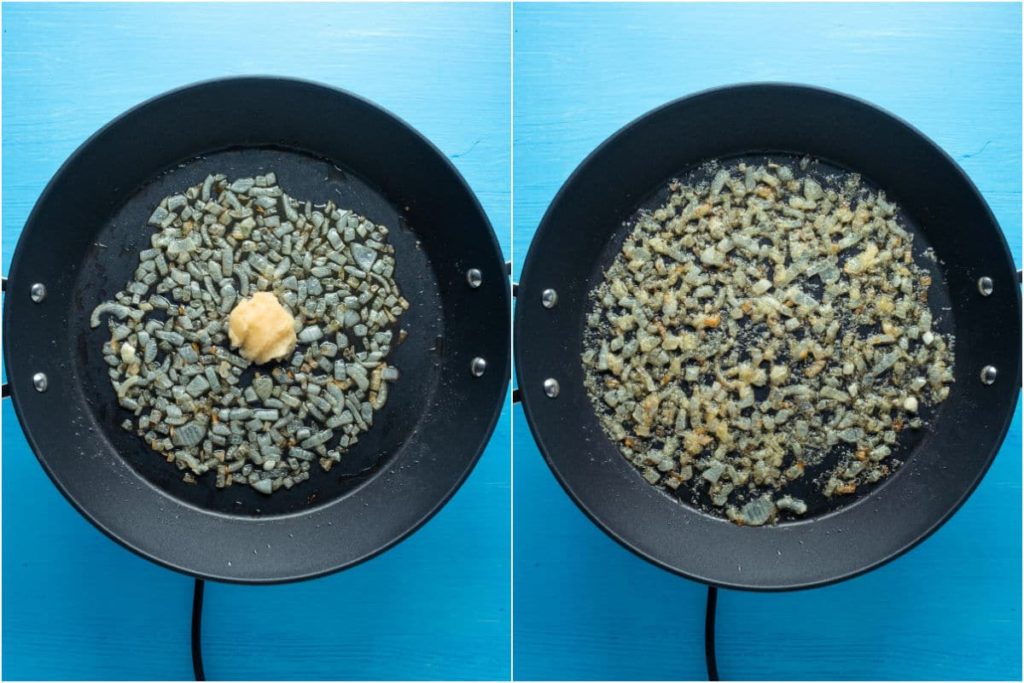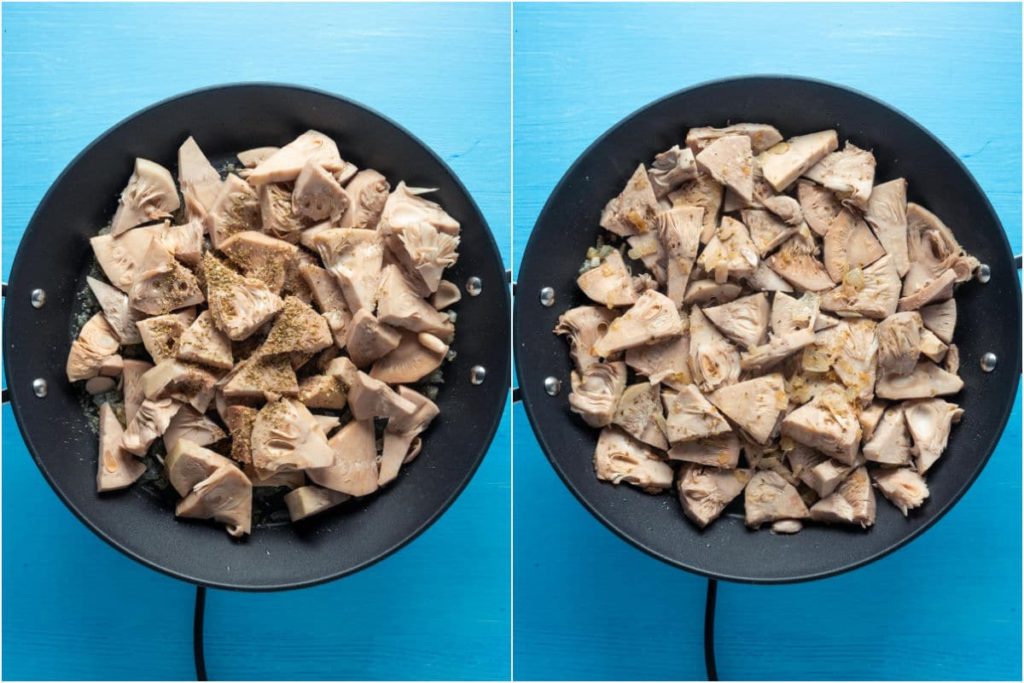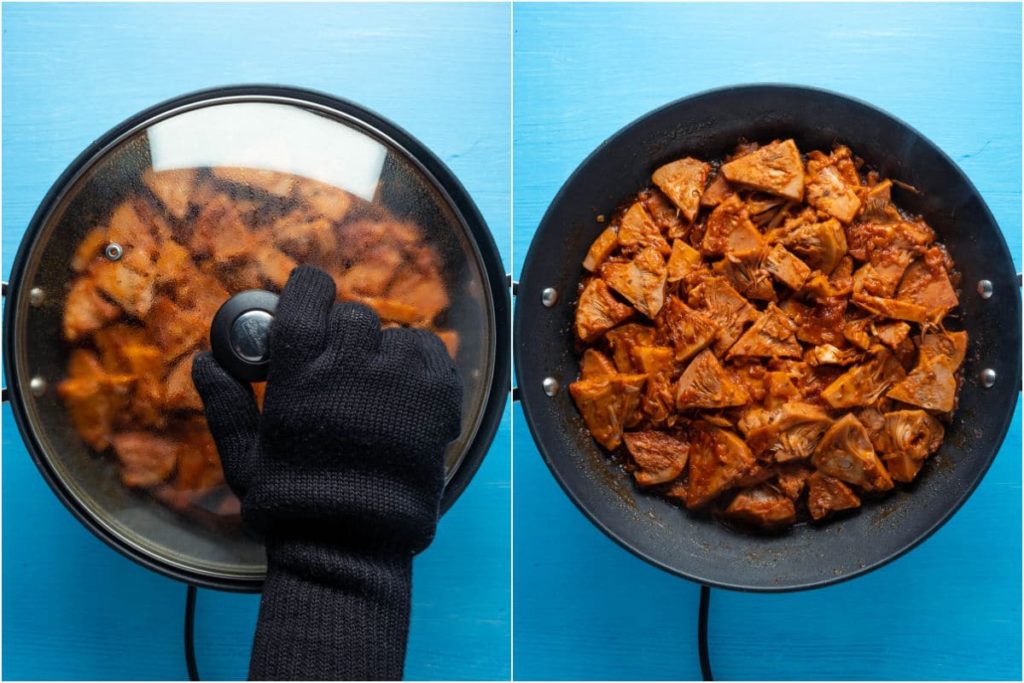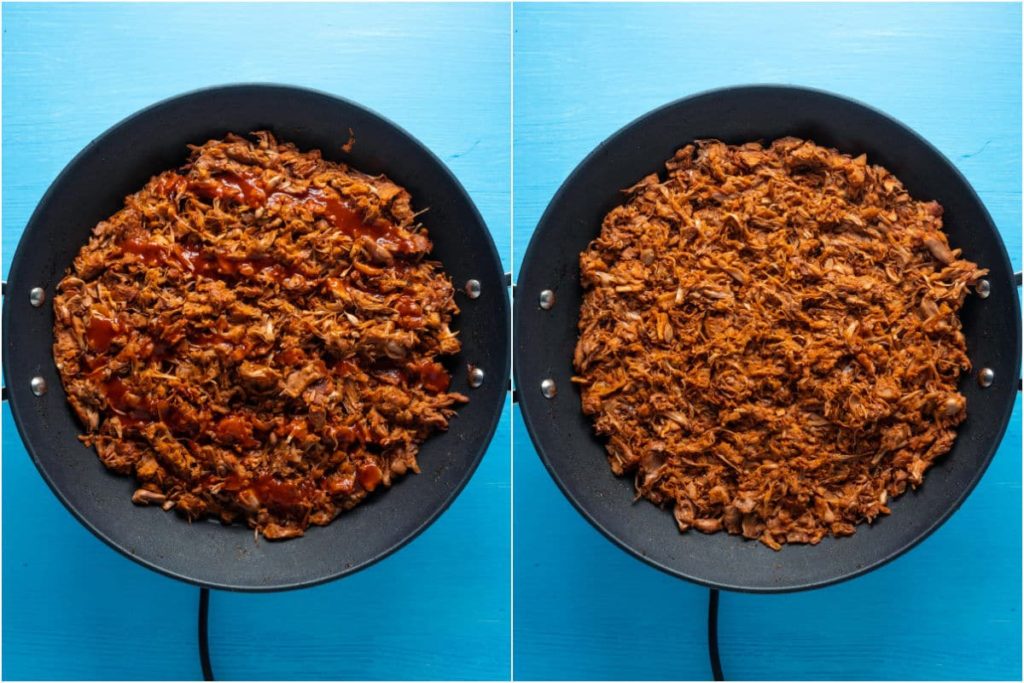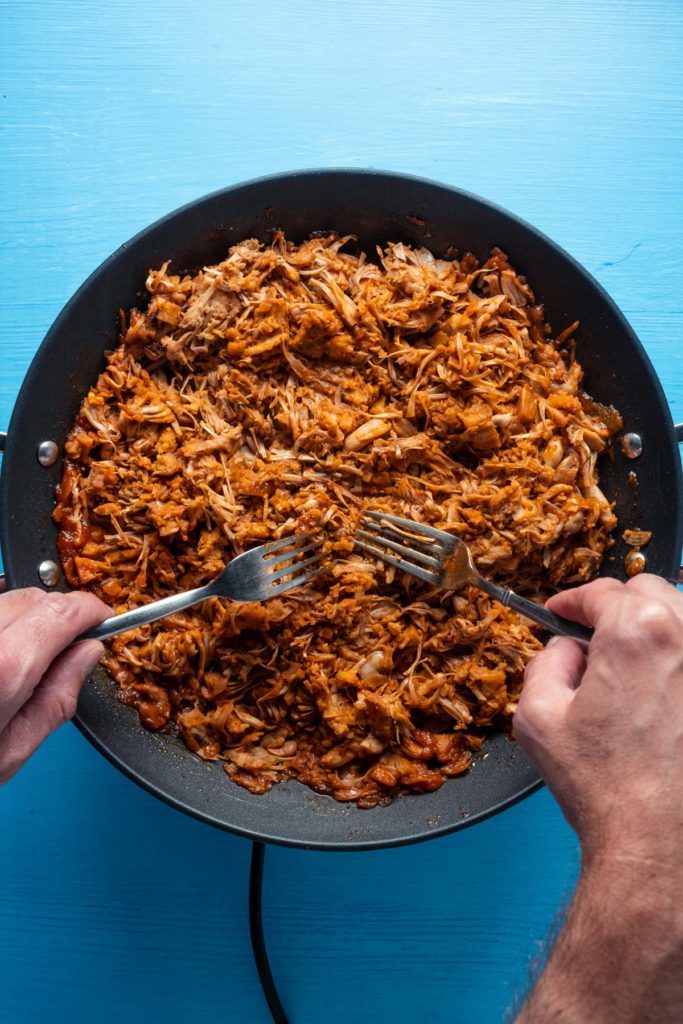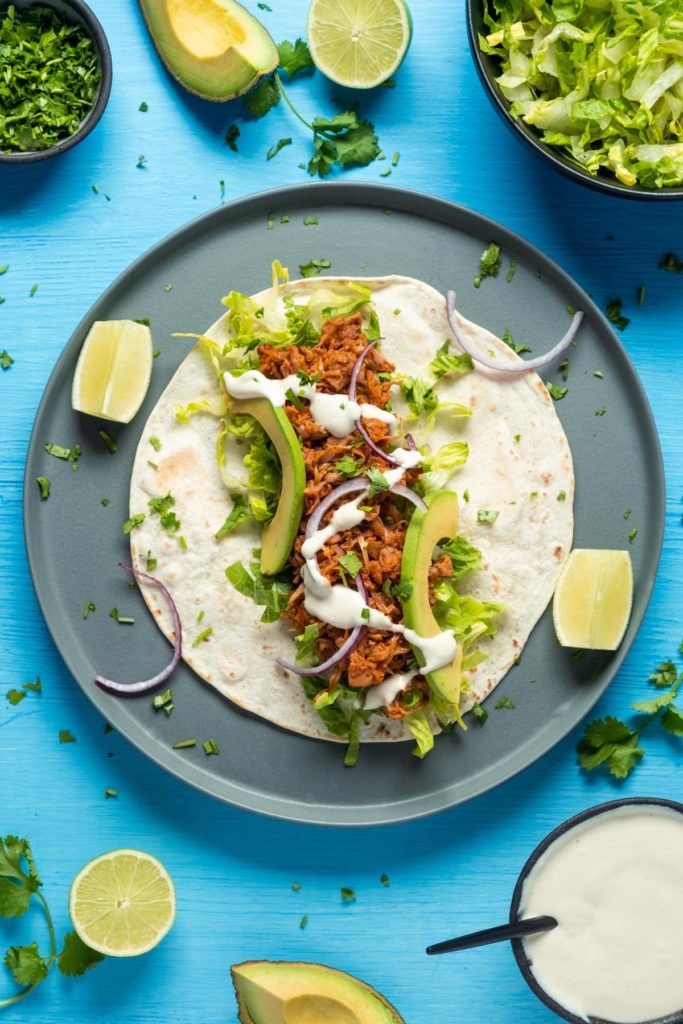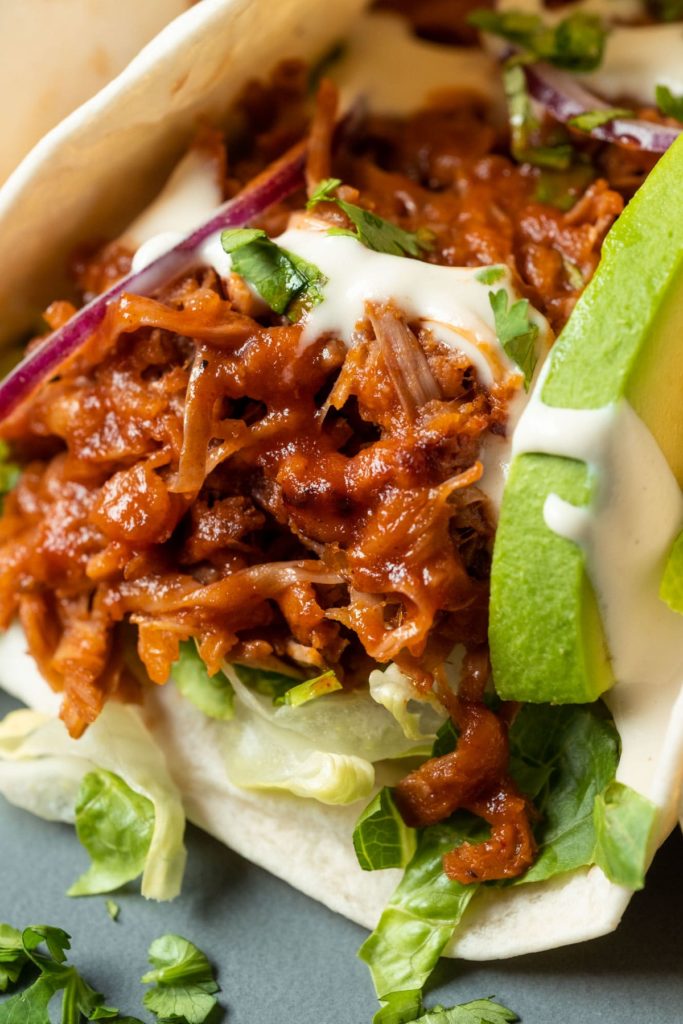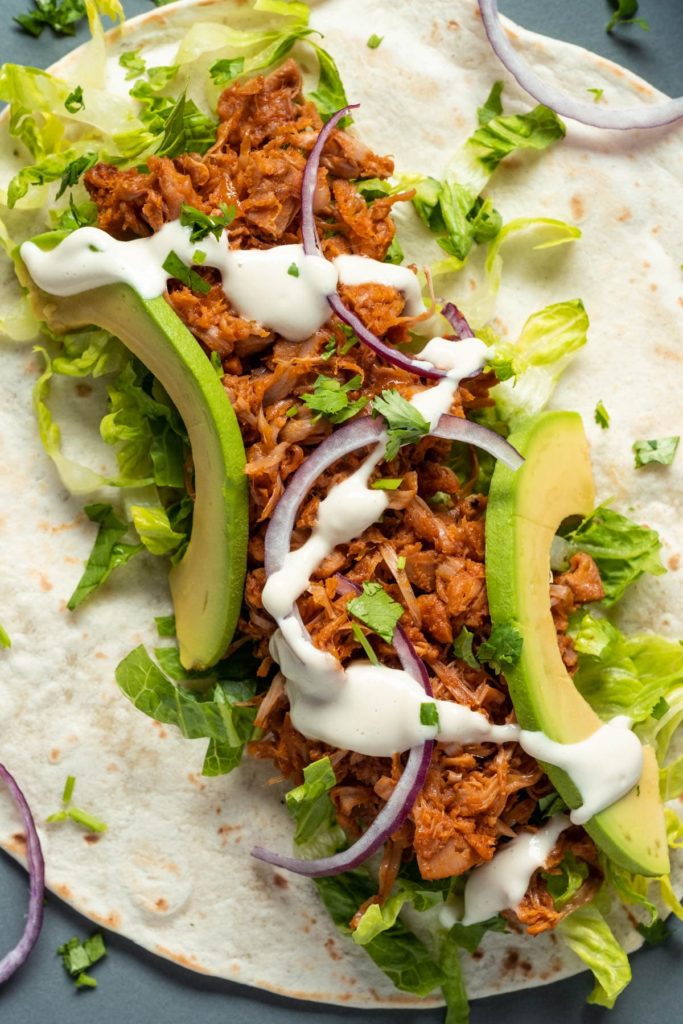 Notes
Vegan BBQ sauce – we are in love with our homemade vegan BBQ sauce (it's SO good) but any store-bought vegan BBQ sauce will also work just fine.
Soft flour tortillas – we used soft flour tortillas, but use whatever you like. If you're gluten free use a gluten free corn tortilla.
Vegan sour cream – we made up a batch of our homemade vegan sour cream. But if you have a store-bought option that you like, then that will save time.
Make ahead: BBQ jackfruit stores really well in the fridge for up to 5 days, so you can absolutely make up the BBQ jackfruit ahead of time. You can also make up a batch of vegan sour cream if you're making the homemade version (or just use store-bought). This way, you just have to warm up your tortillas, shred the lettuce and cilantro, slice the red onion and avocado and serve with your lime wedges on the side.
Storing: Leftover BBQ jackfruit can be stored in a covered container in the fridge for up to 5 days. Any other leftovers like shredded lettuce, cilantro, red onion, vegan sour cream, can be stored in separate containers in the fridge for a few days.
Freezing: BBQ jackfruit freezes well for up to 3 months. Let it thaw in the fridge and then reheat it as you like. I don't recommend freezing any other elements of your tacos, rather store them in separate containers in the fridge and enjoy within a few days.
Nutrition
Serving: 1 Serving | Calories: 496kcal | Carbohydrates: 82g | Protein: 6g | Fat: 18g | Saturated Fat: 4g | Polyunsaturated Fat: 5g | Monounsaturated Fat: 9g | Sodium: 739mg | Potassium: 621mg | Fiber: 7g | Sugar: 17g | Vitamin A: 440IU | Vitamin C: 14mg | Calcium: 136mg | Iron: 2mg