Ingredients:
3 pounds potatoes (yellow or gold, sliced ⅛th of an inch thick, leave the skins on)
1 tablespoon extra virgin olive oil
4 cups almond milk (or cashew milk or any nondairy milk)
3 cloves garlic (crushed into a paste)
1 teaspoon rosemary (use 1 tablespoon if using fresh)
3 tablespoon unbleached all purpose flour
5 scallions (green and white parts thinly sliced)
½ teaspoon nutmeg
Salt and ground black pepper to taste
Instructions
Preheat the oven to 450 degrees.
In a very large bowl, mix 1 cup of the nondairy milk, rosemary, garlic, salt and ground black pepper to taste. Toss the sliced potatoes gently in the mixture to coat.
To make the bechamel, heat the olive oil.
Add the spring onions with a pinch of salt and ground black pepper. Cook, stirring, a couple of minutes.
Add the all-purpose flour and cook the flour over medium-low heat, scraping it up if it starts to stick, about a minute.
Add the remaining nondairy milk slowly, whisking with a wire whisk as you pour it in. Whisking will prevent any lumps from forming and you'll have a smooth, silken bechamel.
Add the nutmeg and more salt and black pepper to taste.
8 Stir frequently over medium heat until the mixture reaches a simmer and the sauce is thick enough to coat the back of a spoon.
Turn off the heat.
Brush or spray a 9-inch oval or square baking dish with extra-virgin olive oil. Pour any of the milk flavored with rosemary and garlic that hasn't been absorbed by the potatoes into the dish.
Arrange the potatoes in the dish, making them stand, until the potatoes are tightly packed in.
Now pour the bechamel over the potatoes evenly, holding back about ½ a cup.
Cover the baking dish with aluminum foil. Place on a foil-lined baking sheet to catch any drips.
Bake for an hour, then remove the aluminum foil from the baking dish. Pour the remaining bechamel over the potatoes and continue to bake another 30 minutes until golden and bubbly.
Remove, let cool for 15 minutes, then serve garnished with more spring onions, if desired.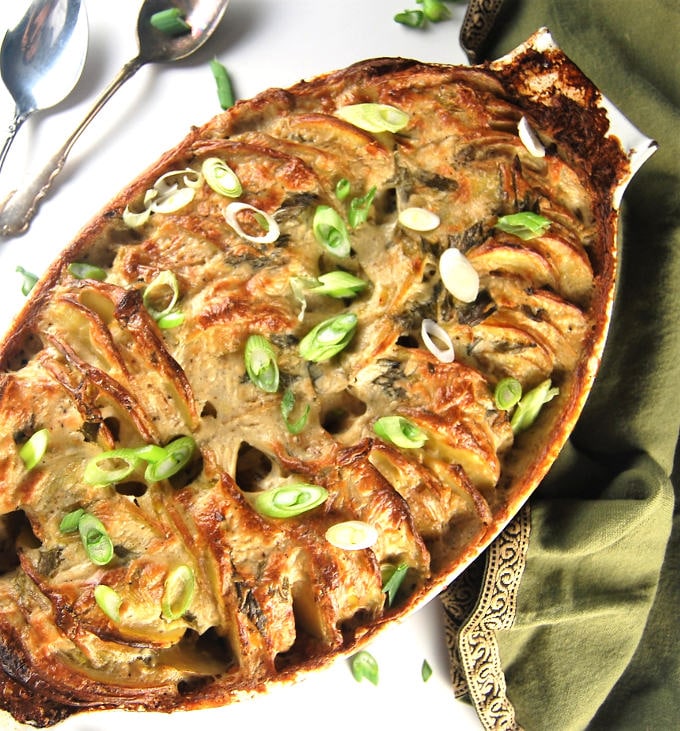 Link: https://holycowvegan.net/vegan-scalloped-hasselback-potatoes/#recipe