Ingredients
FOR BAKING THE JACKFRUIT
One 20 oz can jackfruit (in brine/salt water) drained. I buy mine from Trader Joe's
½ teaspoon liquid smoke
½ teaspoon ground cumin
1 teaspoon chili powder (I use my homemade blend)
½ teaspoon garlic powder
¼ teaspoon fine sea salt
FOR THE CHILI
1 cup (160g) finely chopped onion
4¼ cups low-sodium vegetable broth, separated (I love the Pacific brand-great flavor)
1 tablespoon minced garlic
1 cup (160g) chopped green bell pepper
½ cup (64g) chopped poblano pepper
1 jalapeno, finely chopped
1 tablespoon chili powder
1 tablespoon ground cumin
1 teaspoon ground coriander
2 teaspoons garlic powder
¼ teaspoon ground black pepper
1 teaspoon fine sea salt
One 15 oz can pinto beans, drained/rinsed
1 cup sweet corn (I use frozen)
1 teaspoon liquid smoke
1 tablespoon pure maple syrup
1 tablespoon lime juice
TOPPING
Instructions
Preheat the oven to 191°C / 375°F and line a sheet pan with parchment paper.
To a bowl, add the drained jackfruit and use two forks to shred it very thoroughly like shredded chicken. For the tougher chunks, use a knife to slice it. This will take several minutes, so be patient.
To the bowl of jackfruit, add the liquid smoke and spices listed under "For Baking the Jackfruit". Mix very well until all the jackfruit is well coated.
Spread out onto the pan and bake for 30 minutes. Refer to photos.
While the jackfruit is baking, chop the veggies and gather the remaining ingredients. Add only ½ cup broth to a large pot over medium heat. Once hot, add the onion and cook about 5 minutes, stirring occasionally until tender.
Add another ¼ cup broth, the garlic, bell pepper, poblano pepper and jalapeno. Cook another 5-8 minutes, stirring often, until tender. Add more broth if needed.
Add the spices listed under "For the Chili" chili powder, cumin, coriander, garlic powder, pepper and salt. Stir for about 30 seconds to toast the spices.
Add the remaining broth (3½ cups), pinto beans, corn, liquid smoke, maple syrup and lime juice. Stir in the baked jackfruit. Stir well and bring back to a boil. Once boiling, lower the heat to low and simmer about 10 minutes.
Taste and add any more salt if needed. This can vary on the broth used.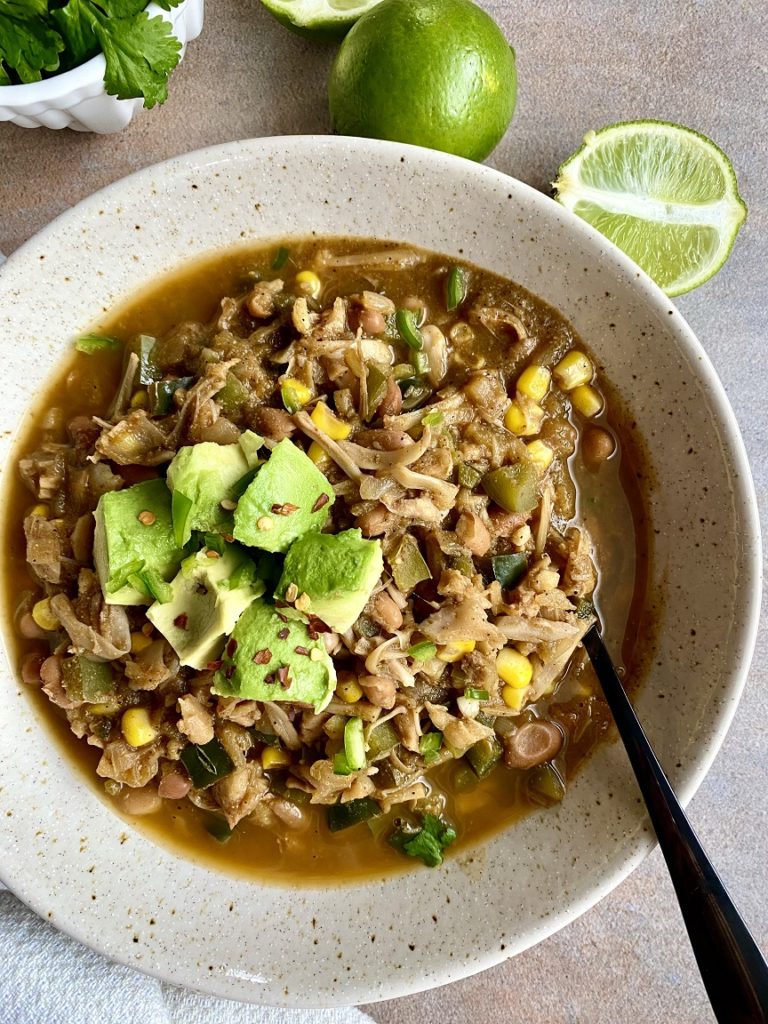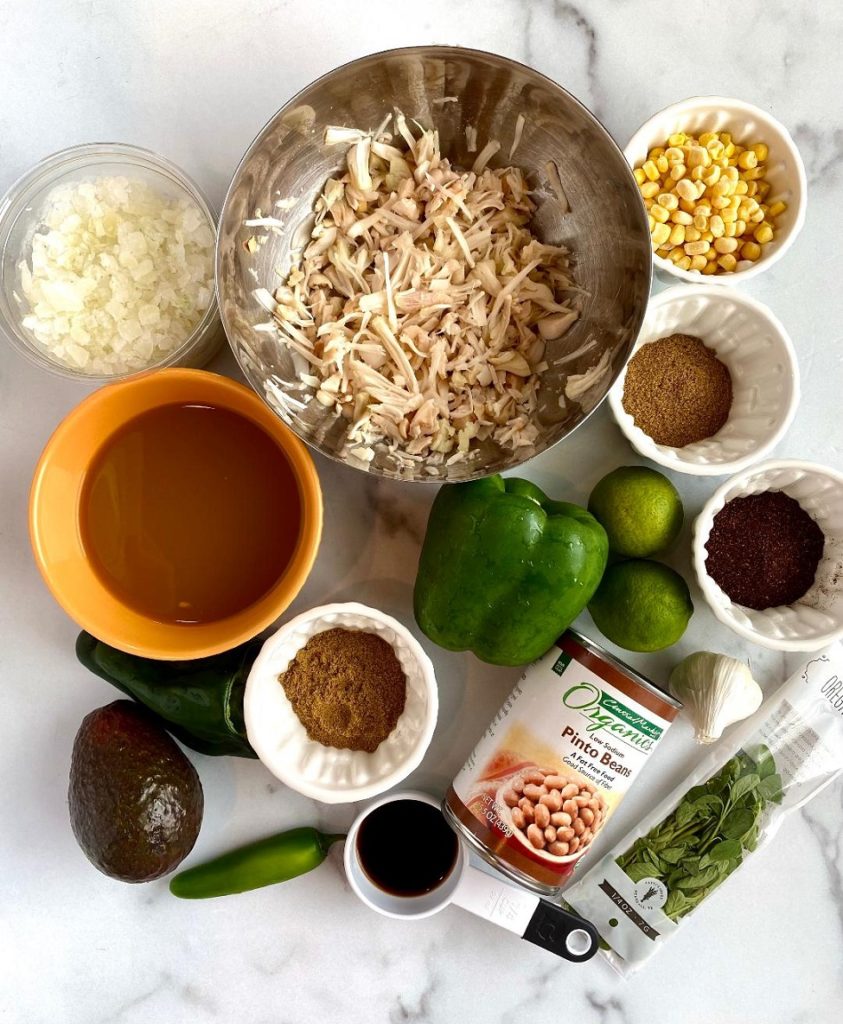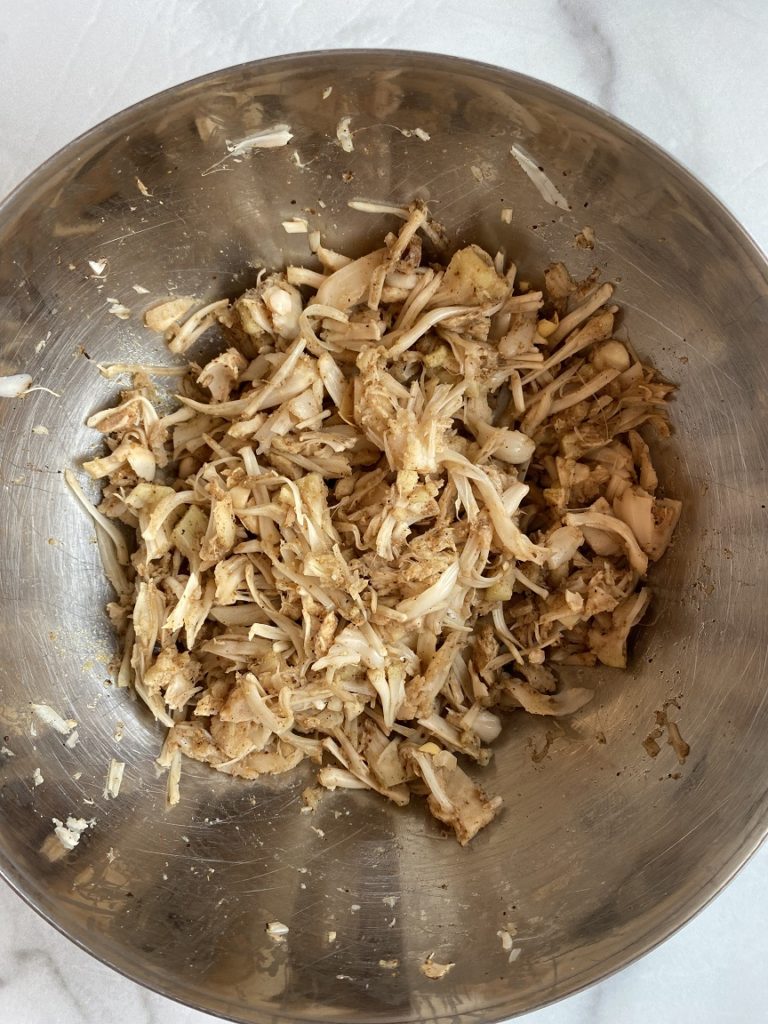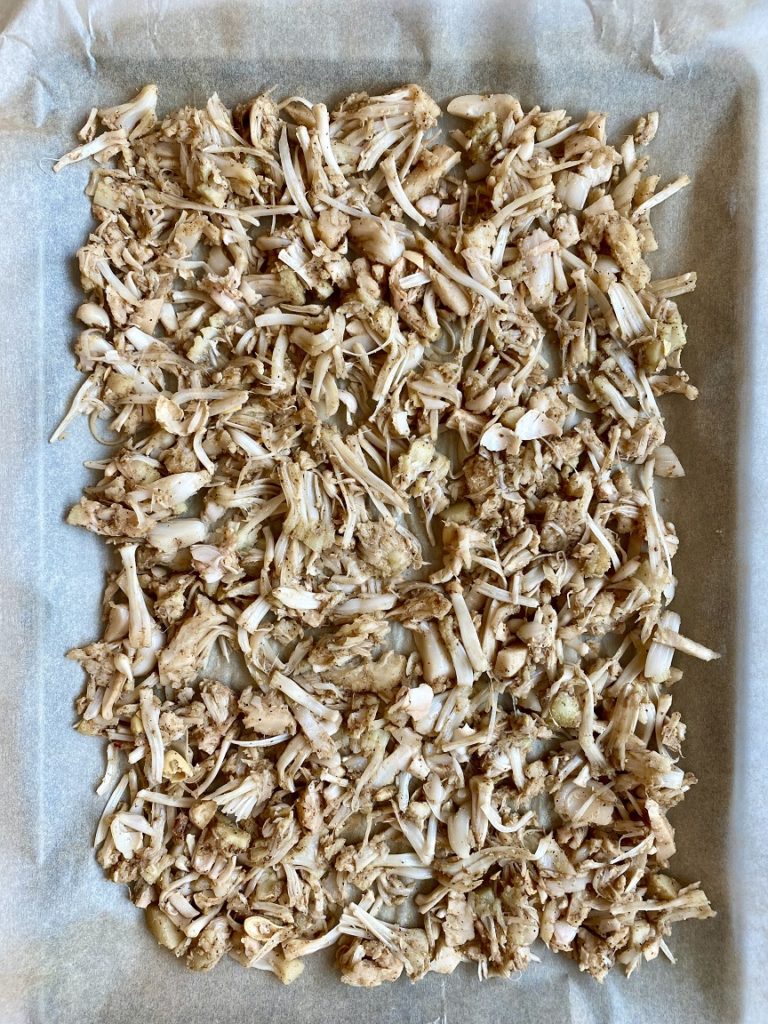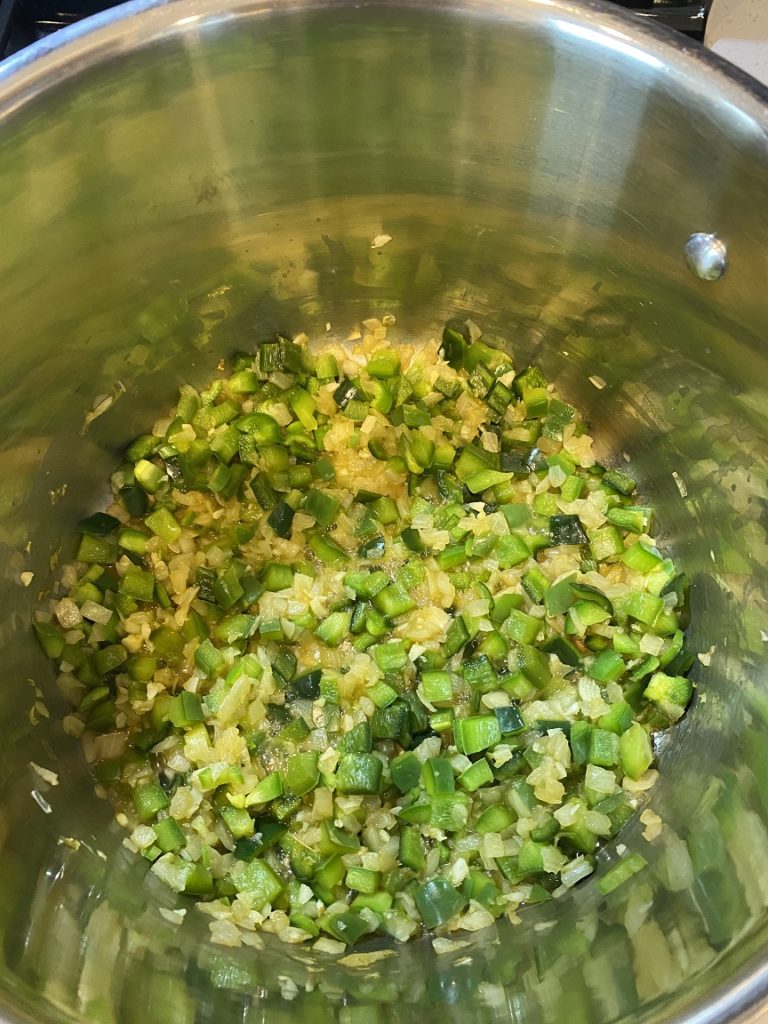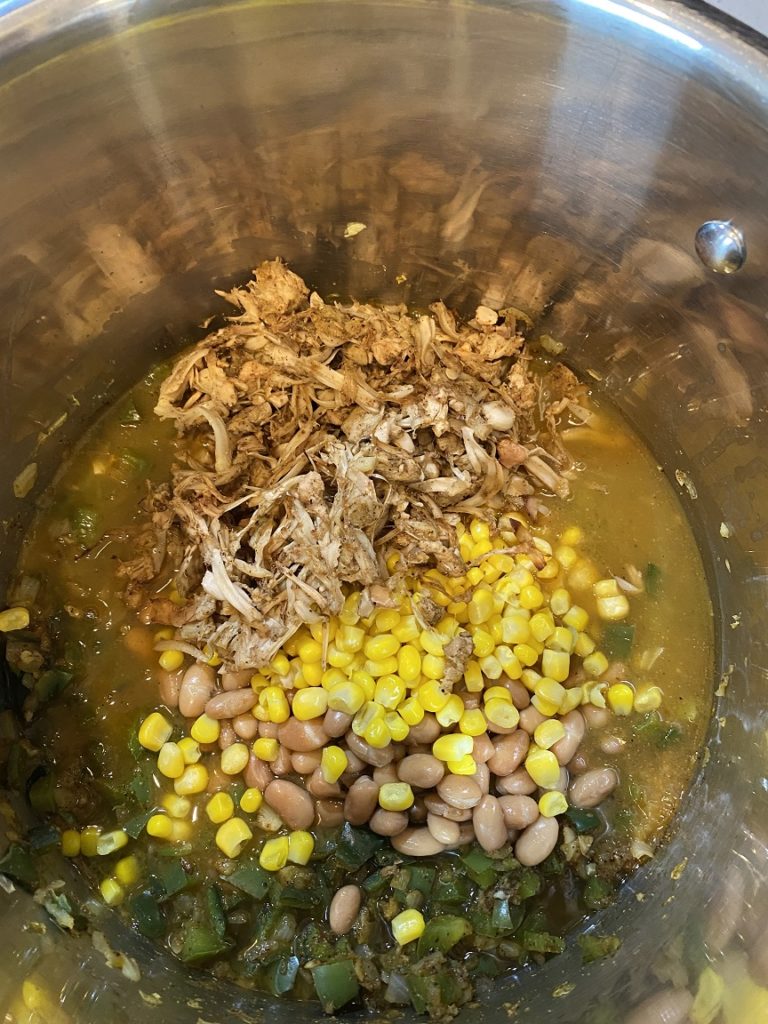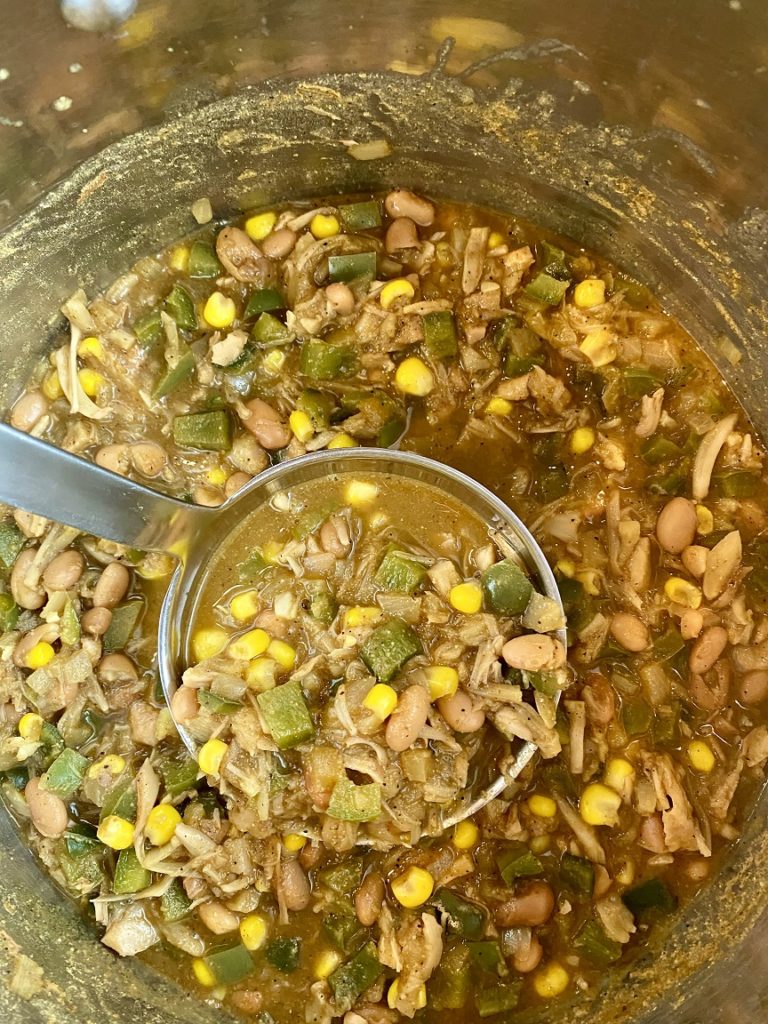 Notes
Nutrition does not include added avocado and lemon sauce. This is based on 3 large bowls, but could easily serve 4 more standard servings.
Recipe: https://thevegan8.com/vegan-jackfruit-pinto-bean-chili