Introduction
Vegan Eggs Benedict – reminiscent of a classic! Made with buttery English muffins that are piled-high with vegan ham, fried tofu eggs and the creamiest hollandaise you'll ever have! Plus, it'll be on your table in just 30 minutes or less.
Ingredients
Tofu Eggs
Hollandaise Sauce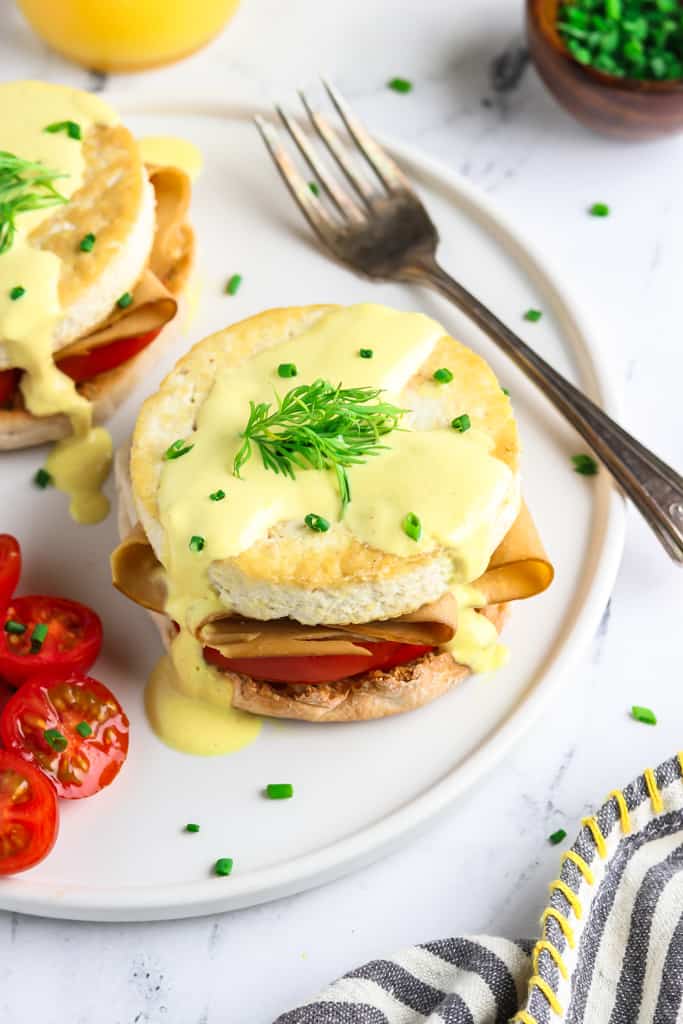 To Assemble
4 slices vegan ham or turkey
2 English muffins (sub with bread of choice)
1 large tomato , cut into 4 slices (*optional)
Dill, chives, green onion, arugula, parsley or your favorite greens for topping.
Vegan Butter (optional)
Instructions
Hollandaise Sauce
To prep, boil water in a small pot and remove from heat. Add cashews and cover for 15-20 minutes. Drain and rinse the cashews and discard soaking water. Place them in a high-powered blender along with the soy milk, lemon juice, tabasco, paprika, garlic, onion, sea salt, and black salt. Blend on high until very smooth. Taste for seasoning and add more as needed. If it's too thick for your taste, add a few splashes of milk or water.
At this point, you can set the sauce aside until ready to use or gently warm in a small pot on med–low heat. Watch carefully and stir often to prevent burning.
Tofu Eggs
Place the tofu on its side and cut into four ¼ – ½-inch slices. Cut each slice into a circle using a glass or cookie cutter (you can save the scraps for tofu crumbles). You can also cut the tofu into squares instead – just make sure it fits the muffins or bread you've chosen.
Sprinkle the tofu with garlic, onion, salt, and pepper on each side.
Heat up a large non-stick skillet over medium heat. Now add the oil and wait until it's heated and shimmers. Now add the tofu slices, leaving space in between each one. Fry for 2-3 minutes on each side until lightly golden and crispy.
To Assemble
If preferred, you can lightly pan-fry the vegan ham or just leave it as is. Lightly toast the English muffins and spread with butter if preferred. Top a slice of tomato on the muffin, then ham, then the tofu egg. Now pour the hollandaise sauce on top and garnish with preferred greens. Serve immediately. Enjoy!
Notes
PRESSING TOFU: wrap a block of tofu in a dish towel and place it on a rimmed plate. Add a cast iron skillet on top (or something equally heavy) and let it drain for 20-30 minutes. Pat dry to remove excess moisture on the surface. You can also use a Tofu Press to make it even easier or you can use Pre-Pressed Tofu or High-Protein Tofu. You will have a thicker block if you use the high-protein tofu, so you will get a few more slices out of it. Prep time doesn't include pressing the tofu.
MILK: I prefer soy milk because it makes the sauce rich, thick and creamy, but any unsweetened non-dairy milk will work. If you use a thinner milk, you may want to increase the cashews to ½ cup. You can always add more milk if it's too thick after blending.
CASHEWS: to prep ahead, pre-soften your cashews by placing them in cool water for 2-4 hours (or overnight in the fridge). Then they'll be ready to pop in the blender right away. If you don't have a high-speed blender, the cashews might not completely break down and this could result in a gritty texture. You can try soaking the cashews longer for 8 hours or more.
Black Salt:

it adds an 'eggy' smell and flavor to the dish. I highly recommend trying it at least once. It's really easy to overdo, so remember that a little goes a long way. I use ¼ teaspoon and use sea salt if I need more seasoning. If you're not into 'eggy' flavor, you can just use all sea salt instead.

SEASONING: I lightly seasoned the tofu to keep it close to the classic recipe. However, feel free to amp it up to your liking. You can add a sprinkle of smoked paprika, cayenne pepper, nutritional yeast, black salt, etc.
TOPPING IDEAS: tabasco sauce, smoked paprika, red chili flakes, fresh-cracked pepper.
NUTRITION

 Calories: 219kcal | Carbohydrates: 20g | Protein: 7g | Fat: 13g | Saturated Fat: 2g | Sodium: 59x6mg | Potassium: 249mg | Fiber: 2g | Sugar: 2g | Vitamin A: 410IU | Vitamin C: 9mg | Calcium: 23mg | Iron: 3mg