Ingredients
For the Tofish:
1 block (420g) firm tofu, drained and pressed (see step 1)
½ cup vegetable broth or water
2 tablespoons lemon juice
1 tablespoon white miso paste
½ teaspoon onion powder
½ teaspoon garlic powder
¼ teaspoon salt
For the batter:
1 cup all-purpose flour
1 teaspoon sweet paprika
1 teaspoon garlic powder
½ teaspoon salt
1 – 1 ¼ cups soda water or beer
1 sheet nori, cut into pieces (see step 4)
oil for frying
Add ons:
1 recipe Crispy Baked French Fries, cut slightly thicker to make a heartier chip
1 recipe Vegan Tartar Sauce (Page 144 in Fuss-Free Vegan)
1 lemon, sliced into wedges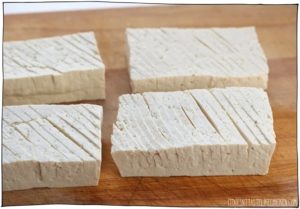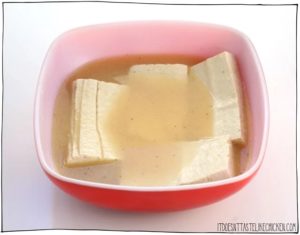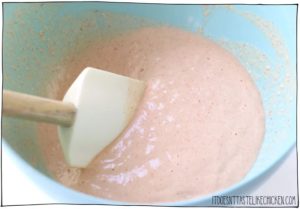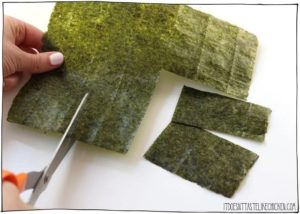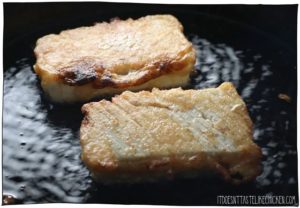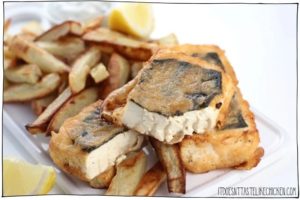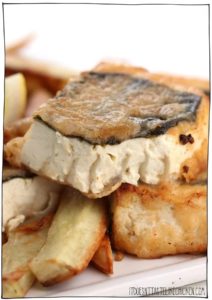 Steps
Prep the tofu: drain and press the tofu for 20 minutes or longer. See my guide on how to press tofu for more info. Once the tofu is pressed, slice the tofu into four slices about 1″ thick. To make the flaky texture, take one of the tofu pieces and slice the tofu part way through repeatedly about ¼" apart. It's helpful to use chopsticks on either side of the tofu to stop from cutting all the way through the tofu so the slices remain intact. See the photos in the post for a visual guide.
Mix the marinade: mix together the vegetable broth, lemon juice, white miso paste, onion powder, garlic powder, and salt in a flat dish or resealable bag. Add the tofu slices, being careful to handle them gently so they don't fall apart. Let marinate for a minimum of 1 hour or as long as a few days covered in the fridge. I usually marinate it overnight in the fridge
Make the batter: in a medium bowl mix together the flour, paprika, garlic powder, and salt. Add 1 cup of soda water or beer and mix. Add up to ¼ cup more liquid as needed to reach a thick pancake batter consistency.
Cut the nori: to make a fish-like skin I use nori sheets (the same sheets of seaweed you use to roll sushi). Cut 4 rectangles that are about the same size as the four tofu pieces. Set aside.
Fry the tofish: pour enough oil to generously coat the bottom of a heavy skillet or pot. Put over medium-high heat. When the oil is hot and ready for frying, take a piece of nori and place it on the side of the tofu that doesn't have cuts. Hold the nori on the tofu and dip the tofu into the batter to coat. Gently place the battered tofu directly into the hot oil, being careful as it may spit. Repeat with the remaining tofu slices. Fry 2 – 3 minutes per side, turning as needed until the batter is golden and crisp all over. Drain on paper towel. Serve hot with chips, a squeeze of lemon, and tartar sauce.