Indulge in the rich flavors of roasted tomatoes, caramelized onions, and fragrant basil in this vegan-friendly, tangy Roasted Tomato and Basil Soup. This comforting soup is perfect for cozy evenings or as a delightful starter for any meal. With a touch of vegan parmesan cheese, it's a flavor-packed sensation that will leave you craving more.
Savour the tangy delight of this Roasted Tomato and Basil Soup. Let's get cooking!
Ingredients:
For the roasted tomatoes:

1-1 ½ kilograms of any available tomatoes, cut in half
8 cloves garlic, peeled
3 tablespoons olive oil
Freshly ground salt and pepper

For the caramelised onions:

½ tablespoon olive oil
2 yellow onions, thinly sliced

Additions to the soup:

½ cup packed basil leaves
½ teaspoon dried oregano
½-1 cup water or vegetarian broth, depending on desired thickness
Freshly ground salt and pepper, to taste

Optional add-ins:

Light/Regular coconut milk for a creamy vegan soup
Vegan parmesan cheese, for a tangy, flavour-enhancing flavour
1-2 tablespoons of butter, for a richer flavour
Instructions:
Preheat the oven to 200 degrees Celsius. Line a large baking sheet with parchment paper.
Place the halved tomatoes and garlic cloves on the baking sheet and drizzle them with 3 tablespoons of olive oil. Generously season with salt and pepper.
Roast the tomatoes and garlic in the preheated oven for 40-45 minutes.
While the tomatoes are roasting, prepare the caramelised onions: In a large pot, add ½ tablespoon of olive oil and place it over medium heat. Add the thinly sliced onions and stir to coat them with the olive oil. Cook, stirring occasionally, for about 20 minutes or until the onions have completely caramelised and turned golden in colour.
Once the roasted tomatoes and garlic are done, allow them to cool for 10 minutes. Then, transfer them to a food processor or high-powered blender and blend until smooth. Alternatively, you can add the tomatoes to the large pot and use an immersion blender if available.
Add the basil leaves and caramelised onions to the blender and blend again until well combined with the tomato mixture.
Transfer the blended mixture back to the pot, turn the heat to medium-low, and add in the dried oregano, water or vegetarian broth, and salt and pepper to taste.
At this point, you can add any additional add-ins listed in the ingredients, such as coconut milk for a creamy vegan soup, vegan parmesan cheese for a tangy flavour, or butter for a richer taste.
Allow the tomato soup to simmer for 10 minutes before serving.
To serve, garnish with vegan parmesan cheese and accompany with grilled cheese, if desired.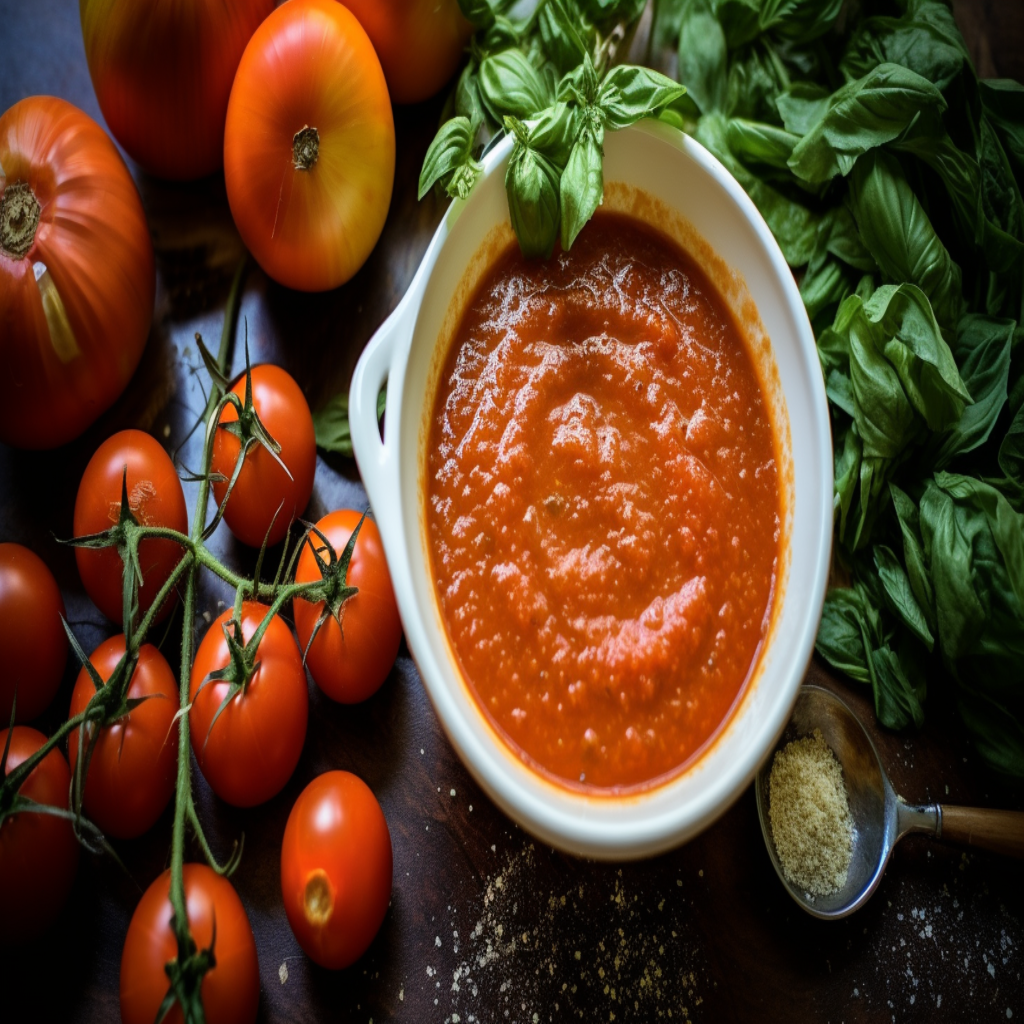 Enjoy your tangy Roasted Tomato and Basil Soup, a delightful blend of flavours and textures that will warm your heart and satisfy your taste buds!
Note: The quantity of tomatoes may vary between 1 to 1 ½ kilograms depending on availability. Adjust the water or vegetarian broth according to your desired thickness. Optional add-ins like coconut milk, vegan parmesan cheese, or butter can be included to enhance the flavour.
Warm regards, ChatGPT
Inspired (and veganised) by this recipe: https://www.ambitiouskitchen.com/homemade-roasted-tomato-basil-soup/