Ingredients
Homemade Golden Milk Spice Mix
3 tablespoons ground turmeric
1 1/2 tablespoons ground ginger (2 Tbsp for spicier)
1 tablespoon ground cinnamon
1 1/2 teaspoons ground nutmeg
1/4 teaspoon ground cloves
1 to 1 1/2 teaspoons ground black pepper (depending on how spicy you want it)
Golden Milk
2 cups favorite plant-based milk (see NOTE)
4 teaspoons maple syrup
1 tablespoon golden milk spice mix
Note
I used a combo of cashew and lite coconut milk, so it is rich and not watery. Keep in mind, that the richness will vary if you change the milks. Watery milks will make the spices taste less rich.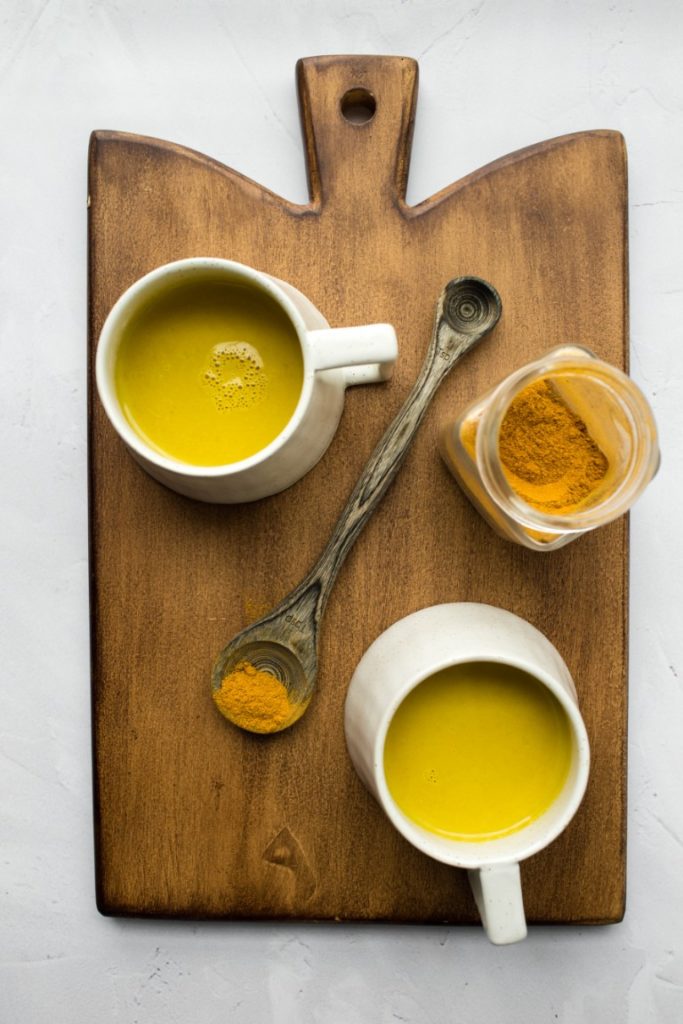 Instructions
Add all of the spices to a jar and shake vigorously until well mixed.
To make the golden milk, add 1 tablespoon of the spice mix to a small pot, with the 2 cups of milk and maple syrup. Whisk very well and turn the heat to medium.
Let the milk come to just forming bubbles along the edges and whisk continuously for 3-4 minutes until well heated through. DO not let it boil! The milk will look brown in the beginning but after it thoroughly heats through, all that turmeric will turn it the beautiful golden color you see in the photos.
Taste and add more sweetener if desired. Pour in mugs and serve immediately! It is normal for a bit of the spices to settle at the bottom, as it is a spice mix, but I just stir it a couple of times while drinking. The spice mix will keep for 6 months, although if you make it daily, you will use it much quicker.
Notes
This recipe makes about 7 tablespoons of golden milk spice mix, which will yield 14 servings (1 cup golden milk each).